Prestigious recognition to the Master Pizzaiolo Jose Francisco Ojeda Ramos in Estonia.
By Claudio Iannello
The new entry in the Peperoncino Rosso Guide is Jose Francisco Ojeda Ramos. ,Generation of '73, born and raised in Telde, Gran Canaria (Spain). He was proudly awarded the coveted plaque and the title of Pizzaiolo d'Eccellenza, which gives him worldwide fame.

Thousands of restaurants, pizzerias, bars and other activities in the food and beverage sector wish to obtain this recognition by joining an international guide. Applications come from all continents because joining a sector network that rewards excellence ensures great visibility.
History
Jose Francisco is a pizza lover, before being a highly regarded pizza chef. He obtains the title of Master Instructor at Pizza News School Srl, where he specializes in Real or Verace Neapolitan pizza, in the classic one, with Pala (shovel ) and Teglia (pan).When he's not at work, he enjoys spending time with his four children: Jessica, Jose, Chris and Francisca. After the wedding, he sold his pizzeria in Spain and decided to move to Estonia, near the capital Tallinn, where he currently lives. He works as head chef at the Italian restaurant Lucca, awarded among the best restaurants with the Silver Spoon.
In addition, he owns with wife a small takeaway pizza business, Josepitsa. The passion for cooking was born when he was little. His father was a maître in a restaurant.
Jose Francisco Ojeda Ramos, as a child, wanted to be a lawyer but as he was growing up he understood that through pizza he can make others happy. A good reason to take the path that has led him to success today. A love that seems to have passed on to his 5-year-old daughter who already loves kneading pizza.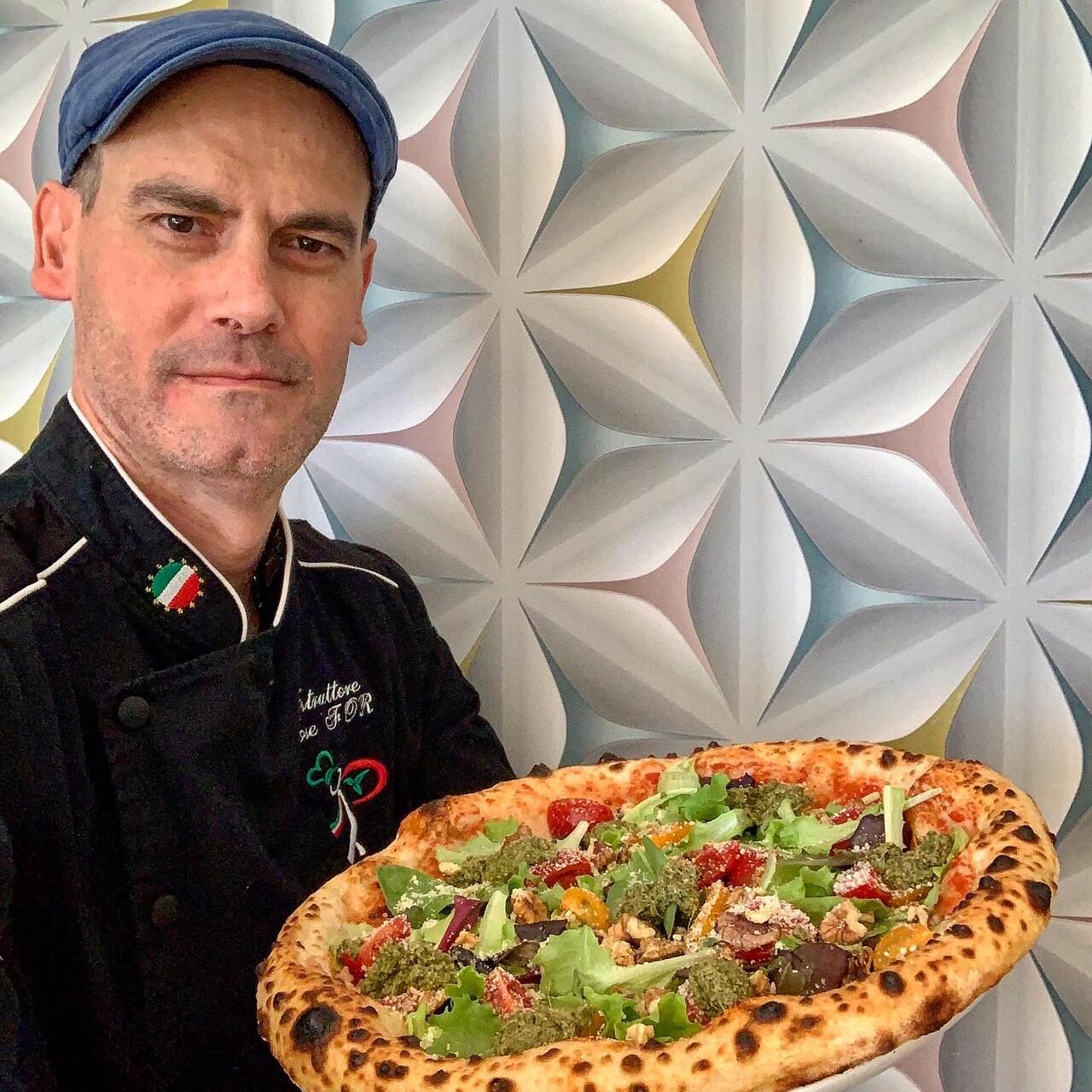 From the passion for white art to the Peperoncino Rosso Prize
Winning such recognition is not for everyone. You need passion and knowing how to stand out. The first meeting with pizza professionals took place in 1995, when he met Giovanni Codecasa, Marcello Montagnoli and Massimo Mostardini in the south of Gran Canaria. The three were owners of the Pizzeria Magico, the business where the Master Pizzaiolo began his apprenticeship twenty-four years ago. A path that leads him to the top reached with the conquest of the title of Pizzaiolo d'Eccellenza recognized by Peperoncino Rosso .
The importance of the dough
The participation in the Pizze Stellate competition dates back to a year ago, in which he ranked among the top fifty pizza chefs. His passion for competitions leads him to experiment with new types of pizza and different doughs. However, his favorite is always the margherita because, according to him, it allows you to understand the quality of the dough and being seasoned only with tomato, oil and mozzarella, it represents the icon of pizza par"excellence". Another passion of his is the training The teacher loves to pass on his knowledge to future colleagues and for this reason he holds courses in school , where he pursues the goal of creating new pizza chefs.
The pizzas
Training and innovation. These are two cornerstones. For the dough, he prefers the direct one, with a 65% hydration and the use of two flours 50% T2 Wealth of wheat( LA RICCHEZZA DEL GRANO) and an La Italiana T00 . Use between 30 and 60 grams of natural yeast for each kilo of flour, 30 grams of salt and as much of extra virgin olive oil. One of his most requested pizzas is the Pizza Bianc, topped with mozzarella and grated parmesan, to which are added: arugula , bresaola, extra virgin olive oil, lemon zest and grated pecorino. An original pizza that immediately won over its customers.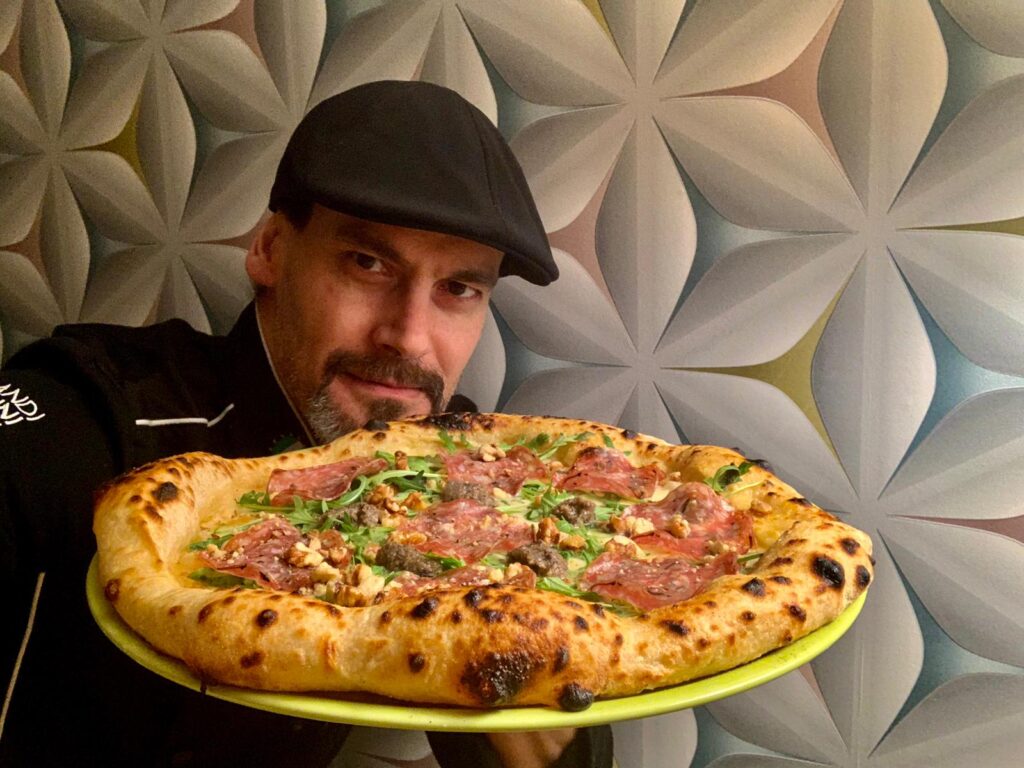 The secret of an excellent pizza
Being appointed Pizzaiolo d'Eccellenza means acquiring a reputation in the sector without equal. Numerous white art professionals are applying to receive this high-value award. Jose Francisco Ojeda Ramos managed to achieve it also thanks to his work philosophy.
In his opinion, at the base of an excellent pizza there is an excellent flour, which greatly affects the quality and digestibility of the dough. When it comes to kneading, the master never spares himself. Indeed, he also works it for fifteen minutes straight. The rest is done by cooking and the choice of ingredients. In his kitchen there is never a shortage of: buffalo mozzarella, fresh basil, mozzarella, San Marzano DOP tomatoes, extra virgin olive oil, pecorino and Parmesan cheese.
Future projects
One of his ideas is that of a pizzeria-school where aspiring pizza chefs learn in the field not only the dough techniques but also the use of the various ingredients. Learning on the field is a great opportunity, especially in a land like Estonia, which is quite far from Italy.
His international experience allows him to be a model for many young people eager to learn a fascinating profession that knows no crisis. The victory of the Pizzaiolo d'Eccellenza plate is a source of pride for him, which allows him to be recognized among the best professionals on the planet.
A great opportunity for a pizza chef who has never spared himself and who today sees his efforts gratified. With a pinch of pride and a lot of humility, Jose Francisco Ojeda Ramos reaped the fruits of his work and hopes to achieve other prestigious goals.